Likewise, SEO (Search Engine Optimization) for the website's ranking, Application Store Optimization (ASO) is the way towards the ranking of the mobile application at the top result in app stores. In the Google Play store, there are more than 2 million applications available against the 3 billion Smartphone users.  Standing out in these is the major task for the developers and business owners but there are a few tricks and tips which can help you strengthen the Google and iOS app store ranking. Businesses playing up for the marketing and advertisements are not satisfied with the conversions and impressions stats as they ignore the ASO for the app stores.  The goal is to secure more installs, decrease uninstalls, push customers for more conversion and ultimately improve ranking through ASO strategies. Below are some crucial strategies which can help you target the potential users and to build a strong ASO without any more uninstalls.
Relevant Title and Description
A good and catchy name attracts more attention from people but in the digital world, it should also have some meaning and should identify your work in a nutshell. For example, if you have a food delivery application and you name it "rocker place", it may create a sense of confusion among the customers but if you name it "pizza rocker place ", or "delicious rocker place", it helps identify users that "Yes!,  it is a food app". This is the power of an appropriate name for your application. The title, name, short description, and long description should explain the key working of your application and which industry it belongs to.
High-Quality Screenshots
From research, individuals spent only 7 seconds deciding whether they are going to download an app or not. Your app presentations in the application store create a huge impact on your business and help you influence people. If you have a food business, use an HD quality screenshot of your app booking food mentioning the benefits or features of your application. The basic strategy is to put an eye-catching screenshot at the first describing your app with proper orientation (landscape or portrait). Tell 1 or a maximum 2 features of your application in a single screenshot. The best screenshots ideas can be also grabbed from a competitor's application.
Promotional or Preview Video
User consumption of content is more in the case of videos than texts. Therefore uploading a 30-second long video to showcase the features and benefits of the application can help you increase your downloads. One great option is to create and upload the video on YouTube and add the preview link in the thumbnail. Just make sure the quality of the video, audio, screenshots (if using any), and UX of your mobile app look good and matches your audience's interest. Don't forget to add the metadata along with the content you're uploading in the application store. Avoid uploading the playlist and the age-restricted video in your app promo section.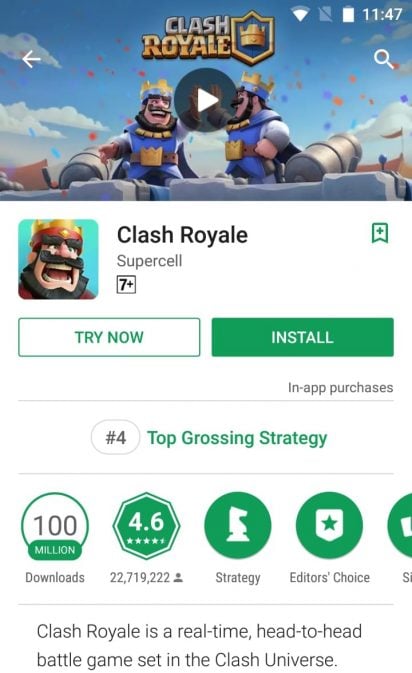 Branding
To showcase yourself as a brand, you need to polish every little aspect of your mobile app. First things first, build your own logo, have a professional team of developers and avoid using any theme or template.  Try to create your own icon, screenshots, contents, and application designs for the authentic preview of the application. Mention every URL and developer's details needed while uploading your application. Hiring a content writer could be the best choice who writes SEO-rich content which can help you to list higher in Google Search ranking. There is no substitute for quality or any product or service, therefore the best promotion and branding is done by your actual product which provides value to the user.
Feedback
This step is only applicable to the app owners who already have a customer base no matter how small it is. Ask your users for timely feedback on the application and its content, rate you in the app store, and refer to their near and dear ones. You can remind the users about the feedback via e-mail, pop-ups, or call (only when they call you). If the rating and reviews are good for your app, it ultimately creates a chain of trust among other users and creates a better reputation among the competitors. Giveaways are another crucial technique that can improvise your application rating in less span of time.
Localization
Localization in the terms of mobile application is to create a multi-linguistic application for your local user base. Not every person is comfortable with the English language; rather they prefer and trust the application whose content is available in their local language, at least the description of the app. As per the research localization of the app has increased the conversion rate by 128 % and boosts the revenue up to 26 % in 2020. Therefore, if you're in-app content is multi-language; you can try maintaining ASO with the localization technique.
Things to Avoid
Apart from the things to follow, there are many things which the business owners should initially avoid practicing. As the competition and congestion on the internet have increased by multiples folds, there are many companies and freelancers outside who offers paid downloads, reviews, and rating for your app. Ironically, Google's algorithm is much strong in capturing those practices and if your business gets caught with these malpractices there are chances of your app removal or permanent ban of the developer account. Moreover, avoid using torrent downloaded application themes and paid themes without the permission of the developer to avoid any legal charges against your company.
These are the methods and practices to follow to improve your content quality, brand image and ASO for your business. Everdemy is the organizations which helps individuals like you and develop copyright free mobile application, maintain SEO, ASO for your business, and train every teacher in shifting their offline business into online model.
In case you want to get in touch with us download your own free mobile app or click here for inquiries.
Free mobile App – Click Here
Inquiries – Click Here